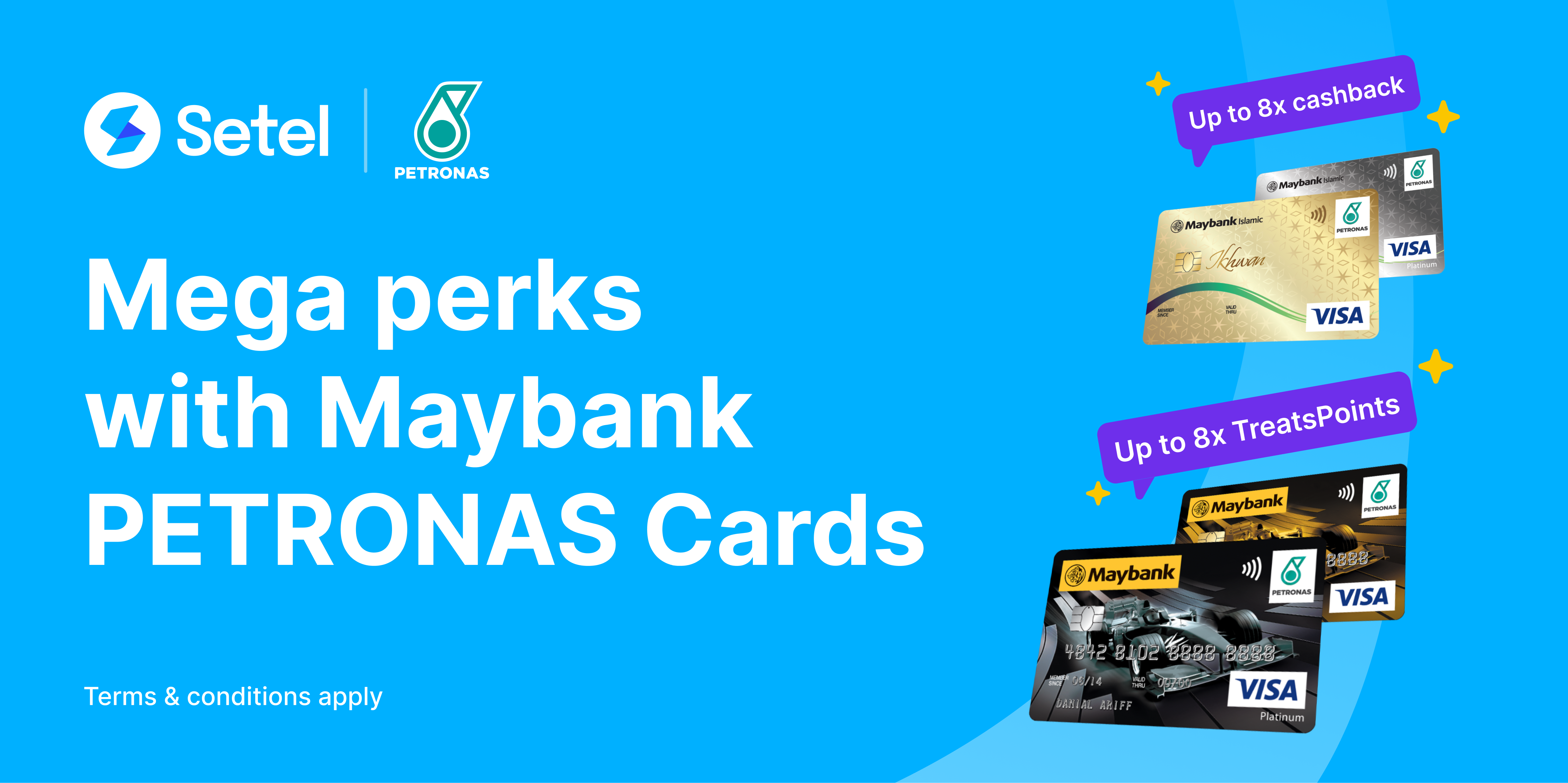 KUALA LUMPUR, 1 September 2023 – Setel, the premier fuel payment application in Malaysia, is thrilled to announce the availability of TreatsPoints and cashback perks for its users who pay for fuel with their Maybank PETRONAS Visa credit cards via the app. With the aim of becoming every motorist's constant companion on the road, this rewarding initiative not only enhances their refuelling experience but also empowers them to save on fuel expenses. The collaboration between Setel and Maybank provides a seamless, convenient and rewarding experience for the customers by synergising Setel's cutting-edge app with Maybank credit cards.
TreatsPoints perks for Maybank PETRONAS Visa Gold & Platinum Credit Cards:
Starting from 1st September 2023, Maybank PETRONAS Visa Platinum and Gold customers can now earn a remarkable 5x TreatsPoints on weekdays and 8x TreatsPoints on weekends respectively, simply by linking their credit cards and paying for fuel on the Setel app.
Cashback rewards for Maybank Islamic PETRONAS Gold & Platinum Credit Card-i:
Cashback will be offered to Maybank Islamic PETRONAS Ikhwan Visa Platinum and Gold Credit Card-i customers when they pay for fuel via their linked credit card on the Setel app from 1st September 2023 onwards. Customers can now earn 8% cashback on weekends, and 1% cashback on weekdays for payments made with their linked Maybank Islamic PETRONAS Visa credit card on the Setel app. With a monthly cap of RM50 cashback, customers can maximise their savings on fuel expenses.
"As a pioneer in the fuelling app in Malaysia, Setel is committed to providing inclusive mobility including extending partners' rewards to our users for a seamless purchase experience" said Mazlin Erawati Ab Manan, Chief Executive Officer of Setel. "After numerous requests from our users over the years, we have finally partnered with Maybank to offer these exciting TreatsPoints and cashback perks when they pay for fuel using their Maybank PETRONAS Visa credit cards via the Setel app. This partnership will not only help our users to unlock more fuel savings, but also amplify our dedication in delivering value to make their lives on the road simpler and better."
Setel would like to encourage its valued users to link their Maybank PETRONAS Visa Gold and Platinum, or Maybank Islamic PETRONAS Visa Gold and Platinum Credit Card-i to the Setel app to take full advantage of these benefits.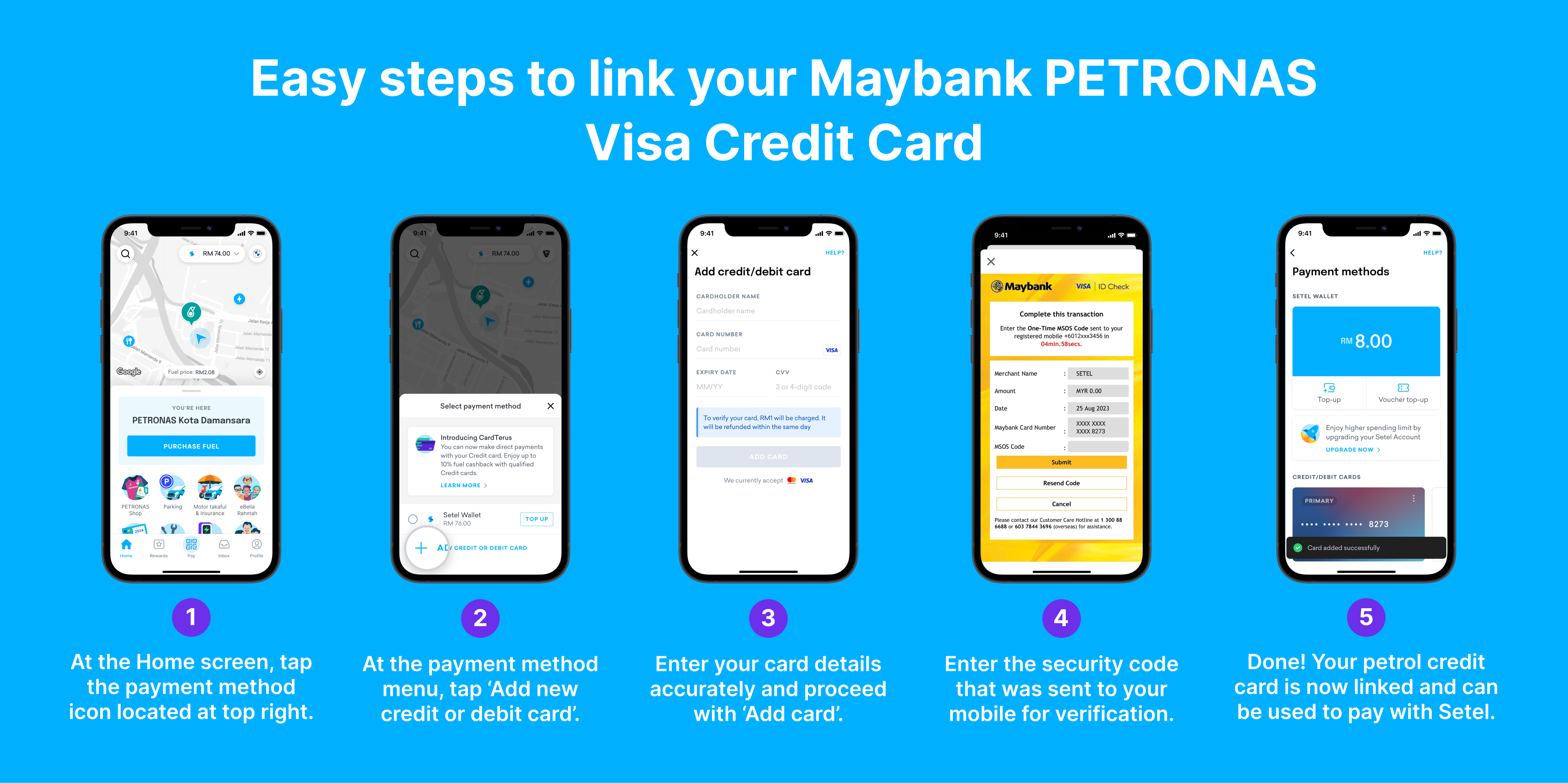 Introduced in July 2018, Setel is a mobile platform that aims to delight customers by innovating for better, inclusive mobility. Setel serves customers across Malaysia by powering one app as the constant companion to ease motorists' journey across fuelling, parking, EV charging, motor takaful/insurance, road tax renewal, 24/7 auto assistance, purchases, and more across PETRONAS petrol stations, retail partners, and online merchants. Download Setel for free from App Store, Google Play Store and Huawei AppGallery, or find out more at https://www.setel.com.